Premium e-Mail Marketing Solutions
Synergy is proud to offer fully automated loyalty marketing. We will manage your loyalty program, so you can focus on running your business. You will get the best email marketing available to take your business to the next level.
Once you start building your loyalty database, Synergy will begin marketing campaigns. Our email marketing system is designed to accommodate any type of business, so whether you have a restaurant or you sell custom decks, we have email marketing solutions for you. Explore your options and contact us to start a conversation!
Sample Campaigns:
Birthday Campaigns
Synergy will send an HTML email to everyone who has a birthday for the month. Synergy can electronically "load" a $10.00 Birthday Reward at the beginning of their birthday month and automatically expire the reward at the end of their birthday month. There are no coupons to clip or print. The birthday reward will automatically be redeemed when the customer uses their loyalty card or phone number during their birthday month.
Miss You Campaigns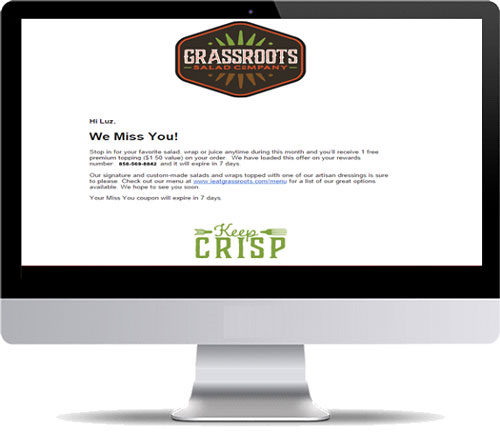 If customers have NOT frequented the merchant within the last 30,60, or 90 days, merchants can give customers an incentive to return by loading a "Miss You Reward."
Example:
We miss you, so we have loaded a $5.00 reward on your account. Please redeem this reward anytime within the next 30 days.
You Got Cash Campaigns
Customers will begin earning points and rewards. At the beginning of each month, Synergy will scan the loyalty database for customers who have a reward and who have NOT used it. Synergy will send them a "You Got Cash" e-mail reminding them that they have a reward.
Top Visitor Campaign
Merchants can reward their TOP visitors by loading a digital coupon on their account.
Example:
Thank you for your loyalty. We have loaded a $10.00 reward on your account. (Expires in 7 days)